Beautiful Places to Visit in North India
India is blessed with many attractive tourist attractions with more than 5000 tourist spots in India. India has several World Heritage sites and most of them are located in North India. The World famous Taj Mahal, located in Agra, famous tourist circuit Delhi Agra Jaipur or Golden Triangle Tour known for legendary Forts and Palaces, The Deserts destinations of Rajasthan, Kashmir Valley also known as the Heaven on Earth etc are counted among the heavenly places to visit in North India. Listed below are the stunning and most attractive tourist places to visit in North India.
List of Beautiful Tourist Places to Visit in North India
1. The Taj Mahal Agra.

One of the Seven Wonders of the World and the most photographed monument in the World is the most famous tourist place in North India. This white mausoleum built by Mughal Emperor Shah Jahan in the memory of his wife Mumtaz Mahal is visited by millions of tourists every year.
Read More
2.Fatehpur Sikri, Agra

Fatehpur Sikri is a historic town built in 1585 by Mughal Emperor Akbar as the capital of his Mughal empire in Agra. This vast town was built with all modern facilities of that time. The city was later abandoned later due to sever water shortage. This city is one of the finest examples of Mughal Architectural excellence and one of the best travelling spots in Agra and in India
Read More
3.Agra Fort
Agra Fort is a historical fort designed and built by Mughal Emperor Akbar during 1565 AD. This huge fort is a UNESCO World Heritage Site Located on the bank of the river Yamuna in Agra. The stunning fort is also known as Lal Quila or Red Fort and considered as one of the finest forts in India.
Read More
4. The Red Fort, Delhi
Also known as Lal Quila this fort built of red sandstone was built by the Mughal Emperor Shah Jahan. Established as Shahjahanabad The Red Fort complex was known as the capital of the Mughal Empire in India. Design of this huge fort has strongly influenced other forts in Rajasthan and other forts in North India. The entire Red complex is one of the alluring tourist attractions in North India.
Read More
5. The Qutab Minar, Delhi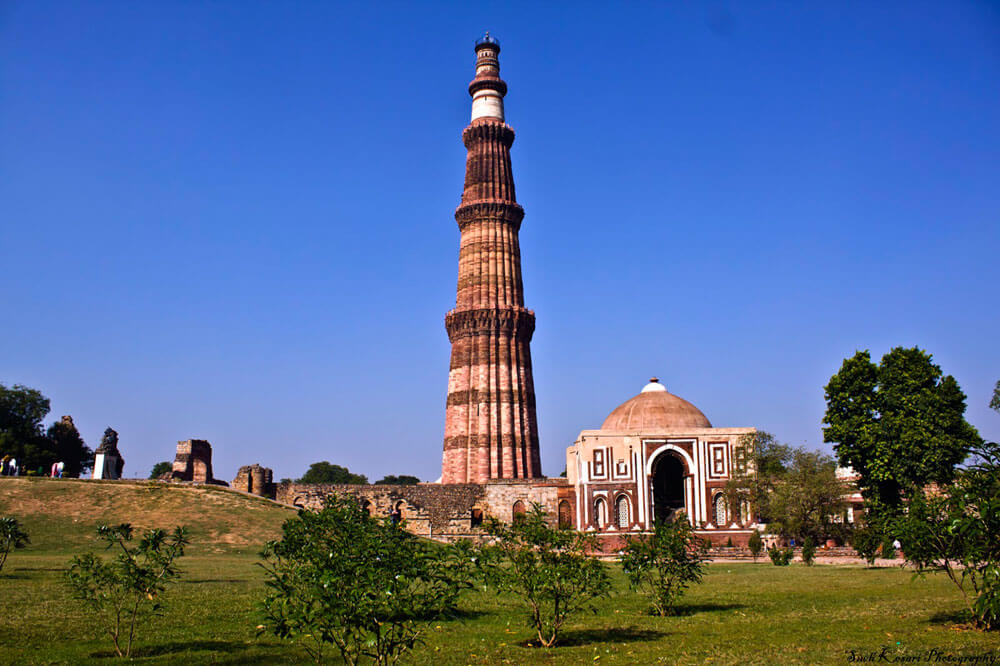 Qutab Minar is a UNESCO World Heritage Site located in Delhi. It is the tallest brick minaret in the world. This minar was constructed by Qutab-ud-din Aibak 1192 and completed by Iltutmish. This historical tower has a diameter of 14.32 m at the base and named after the Qutb al-Din Aibak.
Read More
6. Akshardham Temple, Delhi
Akshardham Temple is another excellent piece of architecture which tells about the Indian culture and spirituality. Akshardham means the"divine abode of God" Akshardham is a traditional Hindu Temple built by Constructed by Bochasanwasi Shri Akshar Purushottam Swaminarayan Sanstha (BAPS) and was officially opened on 6 November 2006.The temple with more than 20,000 Murthi(idols) is main attraction of the complex. Other popular attractions are musical fountains with stunning sound and lights, exhibitions, light and sound show, theater play and cultural boat ride that provides an exciting journey through the cultural heritage of India. The tremendous architecture and spiritual presentation of this huge place is famous throughout the country and it is regarded as one of the popular tourist places in Delhi.
Read More
7. The Rashtrapati Bhavan, Delhi
The Rashtrapati Bhavan is the official home of the president of world's largest democracy. This vast mansion designed by Edwin Lutyens with 340 rooms with its 330-Acre estate is located at the end of Rajpath in New Delhi. This magnificent structure is one of the engaging places in North India.
Read More
8. Lotus Temple, Delhi
Built in 1968 Lotus Temple is an important tourist attraction in Delhi. This is the only Bahai's worship centre in India. The design of this structure resembles a budding lotus flower and hence it is called as the Lotus Temple. This monument is open to all people irrespective of religion and caste and attracts a millions of visitors every year.
Read More
9. City Palace, Jaipur
The City Palace of Jaipur is a complex of courtyards, gardens and buildings situated in the centre of the Pink City Jaipur. This 18th century palace was built by Raja Man Singh during 1729-1732 AD is one of the remarkable examples of Rajput architecture and traditional Hindu architecture. A part of this beautiful palace is still used by the erstwhile royal family as their residence.
Read More
10.The Hawa Mahal- Jaipur
The most important tourist place in Jaipur, Hawa Mahal or the Palace of Wind is an extraordinary pink-painted huge palace built in 1799 by Maharaja Sawai Pratap Singh. This high screen wall built for the purpose of observing street activities while unseen from the outside.
Read More
11. Jal Mahal or Water Palace
The Jalmahal is an incredible island palace submerged in the waters of artificial Man Sagar Lake in the pink city of Jaipur. Constructed by Sawai Pratap Singh in the year 1799,Jal Mahal is considered as one of the most magnificent architectural palaces that was built with the Mughal and Rajput craftsmanship.
Read More
12. The Jantar Mantar, Jaipur
The Jantar Mantar in Jaipur is a UNESCO World Heritage centre built by the Rajput King Sawai Jai Singh in 1734. . The monument is a finest example for the architectural innovations and ideas of different Religion and considered as one of the important astronomical instruments of its time.
Read More
13. Albert Hall Museum, Jaipur
Albert Hall Museum is the oldest museums in Jaipur commissioned by Maharaja Sawai Ram Singh II in 1868. This museum some of the architectural wonders of the 19th century and one of the tourist spots in Jaipur in India.
Read More
14. Kullu Manali Hill Station
Located in Himachal Pradesh Kullu Manali is the most popular and most beautiful hill station to visit in North India. This hill station is one of the most famous tourist destinations for families and honeymooners. Kullu valley located near Manali offers great adventure activities like river rafting and paragliding. Solang Valley and Rohtang Pass are the paradise of snow lovers and charming places for snow activities.
Read More
15. Shimla Hill Station
Shimla is the capital city of North India State Himachal Pradesh. Surrounded by majestic valleys and smooth snow covered peaks, Shimla is more popular as a tourist destination in North India. Nestled at a maximum altitude of 2200 m in the foothills of Himalayas, this lovely hill station is an engaging place to visit in North India. Blessed with wonderful climate throughout the year this hill station has become a hot tourist destination and a perfect place for camping, yoga and meditation.
Read More
16. Kashmir

Kashmir, the most attractive tourist place in North India, the land of picturesque valleys, snow covered mountains and spectacular streams is a must visit tourist attraction. Kashmir tourism greets you with its picturesque landscapes, vibrant flowers and perfect climate. This popular tourist place offers you plenty of adventures like water rafting, canoeing, ski & Snow activities.
Read More