FAMOUS FORTS IN JAIPUR
Jaipur is one of the most popular tourist destinations famous for forts and monuments that echo the glorious history of the Mugals and Rajput Kings. Due to the extensive use of pink color on walls during the visit of Prince Wales the city began to known as the Pink City. Amber Fort ,Nahargarh Fort and Jaigarh Fort are the three popular forts in Jaipur famous for its exquisite carvings and rich cultural heritage. Explore the beauty of this ancient city known for its architectural beauty and stunning monuments with My India Travels, one of the leading tour operators based in New Delhi.
Amber Fort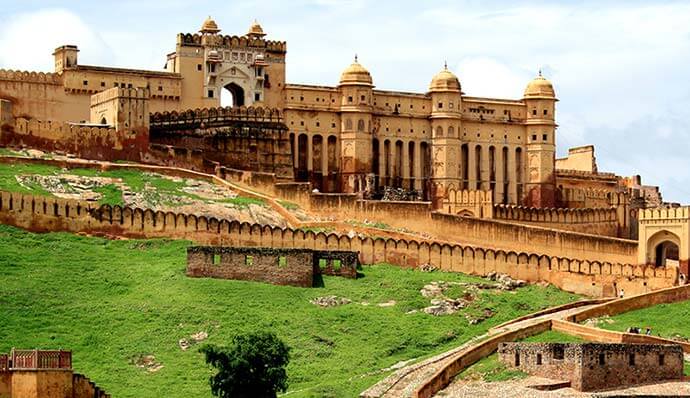 Also Known as Amer Fort, this magnificent fort was built from pale yellow and pink sandstone and white marble. Treated as the Most the popular Fort in Jaipur this Archeological Marvel is a blend of Muslim-Hindu architecture. Located in Amber Town 11 Kilometers away from Central Jaipur this wonderful fort is regarded as one of the Famous Forts in Jaipur. Built in 1592 By Raja Mansingh1this magnificent fort stands atop a high ridge situated 7 Kilometers from Jaipur. Its Stunning views and splendid Architecture attracts a lot tourist all over the world. Fort can be reached by an exciting elephant ride or Jeep ride. Shila Mata Temple, Sheesh Mahal and Jas Mandir are the popular attractions.
Opening time: 9.30am
Closing time: 4.30pm
Best Time to Visit: October – March
Entry Fee: Indian Rs-10.Foreign- Rs-50.
Photography: Allowed
Photography Charges: Still Camera –Rs-50.Foreign- Rs-70.
Video: Indian- 70. Foreign: Rs-150
Visit Duration: 1 to 2 Hours
Phone: +91 141 2530293
Light Show Timing: After Sun Set
Jaigarh Fort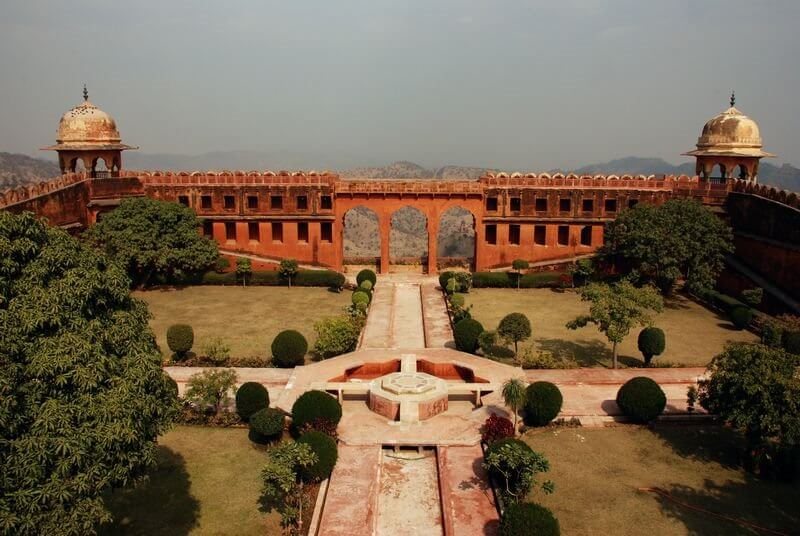 Built in 1726 by Maharja Sawai Jai Singh to overlook and protect the Amber Fort, Jaigarh Fort is acknowledged as the most famous Fort in Jaipur located in the Aravali range of Hills. The fort is also known as the "Fort of Victory" is well protected by 3 kilometers long huge and thick wall of red stone and watch towers. The fort is famous for its water storage systems and one of the popular attractions of the Fort is the canon "Jaivana" a finest example of ancient technology.
Another attraction of the fort is its Armory section where weapons like swords, gun, muskets, shields and huge Cannonball weighing 50 Kilograms are displayed. Museum also has a separate section display of old stamps, photographs etc.
Opening time: 9.30 Am
Closing time: 4.30 Pm
Best Time to Visit: October – March
Entry Fee: Indian Rs-15.Foreign - Rs-30.
Photography: Allowed
Visit Duration: 1 to 2 Hours
Phone: +91 141 2671848
Nahargarh Fort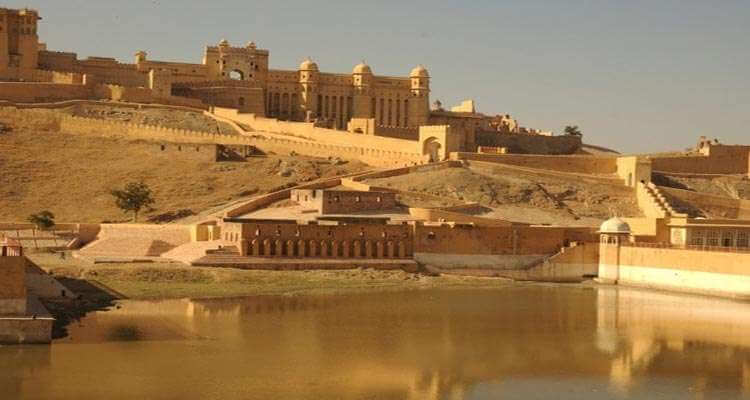 Naharagarh Fort also known as the Tiger Fort was built in 1734 by Maharaja Sawai Jai Singh with an intention of strengthening the defense of Jaipur City. Located in the Aravalis region, the Fort is a best place to get a glimpse of how the Maharajas lived and a great spot to view the stunning beauty of the Pink City. Nahargarh Fort is known as a Haunted place in Jaipur Rajasthan as the locals believe that the spirit of Nahar Singh Bhomia haunted this palace and obstructed the construction of the Nahargarh Fort and later the spirit of Nahar was pacified by building a temple in his memory inside the fort and thus began to be known by his name. During the First Indian Freedom Struggle of 1857 the Foreigners lived in the regions including Europeans and British officers and their family was moved to this Fort by then Maharaja of Jaipur, Sawai Ram Singh for their protection.
Opening time: 9.30 Am
Closing time: 4.30 Pm
Best Time to Visit: October – March
Entry Fee: Indian Rs-15.Foreign - Rs-30.
Photography: Allowed
Visit Duration: 1 to 2 Hours
Phone: +91 141 5148044