MATHURA VRINDAVAN TOUR PACKAGE
If you are looking for a package tour to spiritual destination then think of Mathura Vrindavan Tour Package. Both Mathura and Vrindavan are closely related to Lord Krishna who was born in Mathura and raised in Vrindavan. Located at Mathura district of Uttar Pradesh both Mathura and Vrindavan are prominent Hindu pilgrimage centers of North India. Now both Mathura and Vrindavan have been developed into an urban region over the last two decades. Mathura is the abode of Lord Krishna and hence occupy great place among the Hindus. This sacred place also has one of the oldest historical records. Even this holy town has found a mention in the epic Ramayan as one of the capitals of Kushan King Kashnishka. Important places to visit in Mathura are Krishna Janmasthan Temple, Barsana, Vishram Ghat, Gokul, Dwarikadheesh Temple, Mathura Government Museum etc.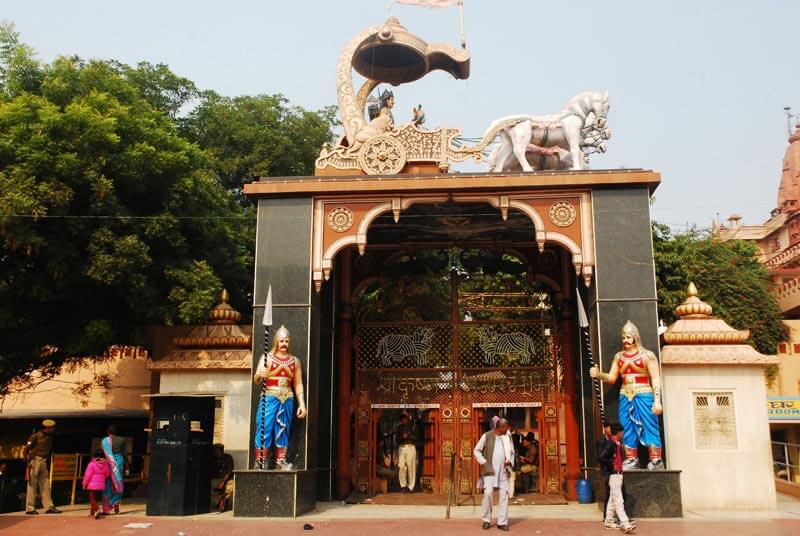 EXPLORE THE BEST OF MATHURA VRINDAVAN TOUR
Vrindavan is one of the sacred tourist places in India located at a distance of 14 km from Mathura. It is the place where Lord Krishna spent his childhood days. This holy place arouses a sense of intimate love and devotion towards the almighty. This sacred place is always full devotees and tourists from all over India and abroad. This sacred place reminds travelers about the playful tricks and divine love of young Krishna with Gopikas. Popular for a number of temples that spreads all over this holy city attracts thousands of devotees every year. Vrindavan has also been famous center of sacred rituals and Krishna workship for a long time. As Mathura is close to Vrindavan, travelers visiting Mathura can also visit Vrindavan without making any changes in the travel itinerary thus making Mathura Vrindavan Tour Package one of the hottest pilgrimage tours in North India.
MATHURA VRINDAVAN TEMPLE TOUR PACKAGE
Mathura Vrindavan trip is also popular as Mathura Vrindavan Temple Tour Package as both places house a number of Hindu temples and worship centers. Temples are devoted to the veneration of Radha and Krishna and are considered as sacred by various spiritual rituals like Vaishnavism, Gaudiya Vaishnavism, and Hinduism as a whole. There are numerous gorgeous temples like the Bankey Bihari Temple, Madan Mohan Temple, Radha Vallabh Temple, Pagal Baba Temple and Jaipur Temple.
We arrange Mathura Vrindavan tour package by car from Delhi Mathura Agra and other places at most competitive rates with special deals on Mathura Vrindavan Pilgrimage Tour. We also provide Delhi Mathura Vrindavan Torus and Delhi Agra Mathura Vrindavan Tours. In Addition to this we also provide Delhi Agra Mathura Vrindavan Cheap Tour Packages for budget travelers. So Contact our travel planners for a wonderful trip to Mathura Vrindavan according to your budget and preferences.
Best Time to Visit Mathura Vrindavan: October-March
By Air
Nearest airport is Kheria in Agra about 60 Km from Mathura.
By Train
Mathura is well connected with all the important cities of the state and country such as Delhi, Agra, Chennai, Bangalore, Ernakulam, Trivandrum etc.
Railway stations: Mathura Junction and Mathura Cantt.
By Road
Mathura is well connected to all the major cities by National Highways. Distance from Mathura to Agra is 55 Km and Mathura to Delhi is 144 Km.
How To Reach Matura Vrindavan:
MATHURA VRINDAVAN TOUR PACKAGE ITINERARY 4 DAYS:
Day 1 Delhi - Mathura
Assemble at New Delhi Airport as per flight schedule .Meet our representative and after immigration board the flight to Amman. On Arrival in Amman complete the customs formalities and transfer to hotel. Dinner and Overnight Stay at Hotel.
Day-2
Mathura - Vrindavan
+
This Package can be modified according to your budget and requirements.