TOURISTS SPOTS IN KASHMIR
Kashmir is one of the most beautiful tourist spots blessed with blissful beauty in India. Jammu & Kashmir is only state in India which shifts its capital according to seasons. Jammu is the winter capital and Kashmir is the summer capital of the state. Both Kashmir and Srinagar are famous for their picturesque valleys and serene lakes. Known as the Heaven on Earth Kashmir is known for majestic mountains, snow capped mountains and roaring waterfalls and one of the best tourist places in India. Srinagar is the summer Capital of Jammu and Kashmir and the most vibrant destination set around the Dal Lake. Srinagar is the central area of Kashmir and ideal place to start your trip to major tourist destinations like Sonamarg, Gulmarg and Pahalgam.

Dal Lake- The famous tourist Spot in Srinagar
Dal Lake :
it is a beautiful lake known as the jewel of Kashmir. This 8 Km long lake is famous for house boat tourism and Shikara ride. There is an amazing floating market in Dal Lake which is the only market of its kind in India and second in the world. House Houseboats also known as floating hotels are another popular attraction of Dal Lake. The houseboats in Dal Lake are kept stationary at one point and do not move in water as in Kerala.
Hazratbal Mosque:
It is a Muslim shrine in Srinagar. It is believed that the strands of Prophet Muhammad are kept here. It is one of the holiest shrines in Kashmir
Shankaracharya Temple:
It is one of the most famous and oldest temples in Srinagar famous for the architectural beauty. The temple is dedicated to lord Shiva. The Temple is located on the top of hills and there is a vibrant view from the top of the hill.
Mughal Gardens:
It is a group of gardens built by the Mughals in Persian style of architecture. The three main Mughal gardens are Shalimar Bagh, Nishant Garden, and Chesmashahi.
Gulmarg
Undoubtedly it is one of the best tourist spots in Kashmir valley. Gulmarg is a Hill station located about 50 km from Srinagar. Gulmarg is popularly known known as "Meadows of Flowers "and famous for its high peak mountains buried under the heap of snow in winters. Gulmarg is one of the most popular skiing destinations in India.Its proximity to Srinagar makes this beautiful hill stations a must visit tourist spot in Kashmir. Gulmarg has the highest golf Course in India. Gondola Cable car, among the highest in the world is the most important tourist attraction in Gulmarg. The Gondola ride has 3 phases, first one from Gulmarg to Kungdoor and second phase is from Kungdoor to Apparwath and third phase is from Kungdoori to Mary Shoulder (Chair Lift) there is no activity or sightseeing in kungdoor. 2nd and newly introduced third phase are must visit points if you are snow lover and want to enjoy in snow activities. The ticket counter will be opened from 8:00 AM to 4:00 PM and Tickets are only valid for 3 Hours from the time of boarding. During winter season heavy snow shoes are required to indulge in snow activities. No heavy shoes are requiring during gondola ride from April to July. To avoid the heavy rush it is better to either book the ticket online or take the ticket in advance. You can Book gondola cable car ride tickets online at
http://gulmarggondola.com/ski_passes.php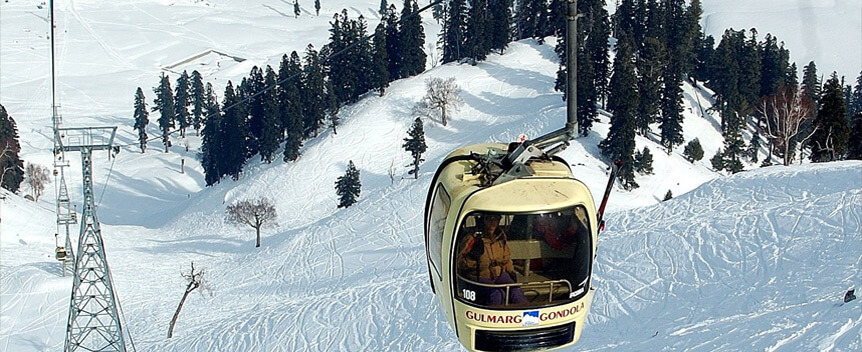 Gulmarg- One of Best Tourist Spots in Kashmir
Gondola Ride Charges
First Phase: Gulmarg to Kungdoor - INR 350/-
Ride Duration: 1 Hour
Second Phase: Kungdoor to Apparwath - INR 450/-
Ride Duration: 1 Hour
Third Phase: Kungdoori to Mary Shoulder (Chair Lift) INR 250/-
Ride Duration: 1 Hour
Rent for Snow Dresses
Approximately INR: 50/- per Jacket
Gondola Ride Timings: 10 AM to 5 PM. All days of a week.
Travel Tips:
In the parking area you can find local people and guides forcing you to take the pony ride to the gondola area for Rs 400 to 600 per ride. It is better to avoid this uncomfortable pony ride as it takes the longest route to reach the entry point. The Gondola Cable Car Station is only 600 Meters away from the parking area. There is a very good road on the left side of the valley and you can easily walk down to the entry point and save your time and money. Shoes and other snow dresses are costly at parking areas so it is better to take the shoes and Wind Sheet from the Tangmarg. Cost of the Shoes per Pair is around Rs- 100/-
Sonamarg
This is an amazing place with picture perfect view. Sonmarg is a must visit tourist spot in Kashmir. The drive to this beautiful hill station itself is very relaxing and soothing. Also known as "meadows of gold" means the valley of Gold. In Sonamarg you can visit Nilagrad River, Vishansar Lake and Thajiwas glaciers.. Sonamarg is also a starting point for the Amaranth Yartra via Baltal. Sonmarg is the best snow place in Kashmir to play with snow balls or roll around the fresh snow. Tata Sumo vehicles are available at shoe changing area to ferry tourists up to the glacier. Pony rides costs you around Rs-1000/- Persons. Sleighs are also available at the snow point for around Rs-100 per Sleigh. If you are a budget traveler you can walk up to the snow with your rubber boots (Rubber Snow boots Available on rent at the parking area) and have fun with snow without pinching your pocket.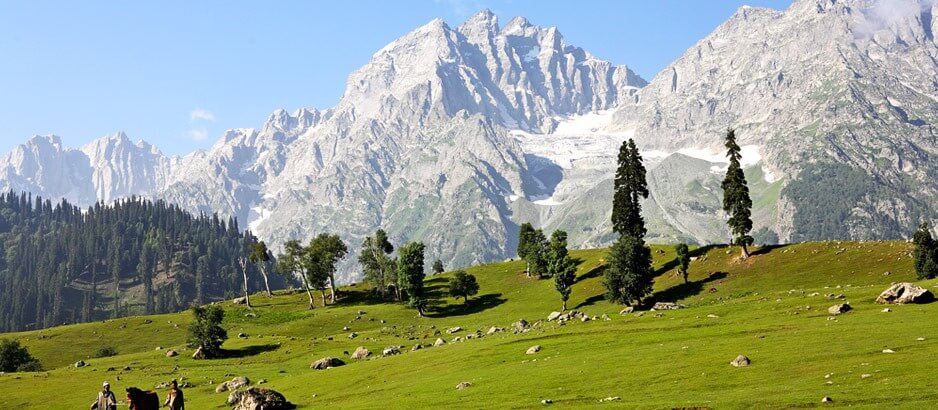 Sonmarg- A Must Visit Spot Snow Activities
Pahalgam
Surrounded by alpine peaks and crystalline lakes Pahalgam is an amazing valley blessed with a number of picturesque tourist spots which has a vibrant scenic beauty. The majestic Lidder River adds an extra grace to beauty of this hill station. Pahalgam is a paradise for trekkers. Some of the most beautiful valleys around Pahalgam are Aru valley and Bethab Valley. One can go for river rafting or do trout fishing in Lidder River. Horse riding is the main option to reach the top of this hill station. In Pahalgham you can hire ponies for the sightseeing up to Baisaran Valley but before hiring ponies make sure that you are comfortable in sitting on ponies for 1-2 hours. Normal charges for ponies are INR 600/- per person for visiting all sightseeing points. But you can bargain for it and it really works. It is really cold upside so carry heavy woolens or jackets with you. If you're not interested in hiring the ponies you can explore this hill station on foot. Chandanwari in pahalgham is also one of the starting points for Amaranth yatra.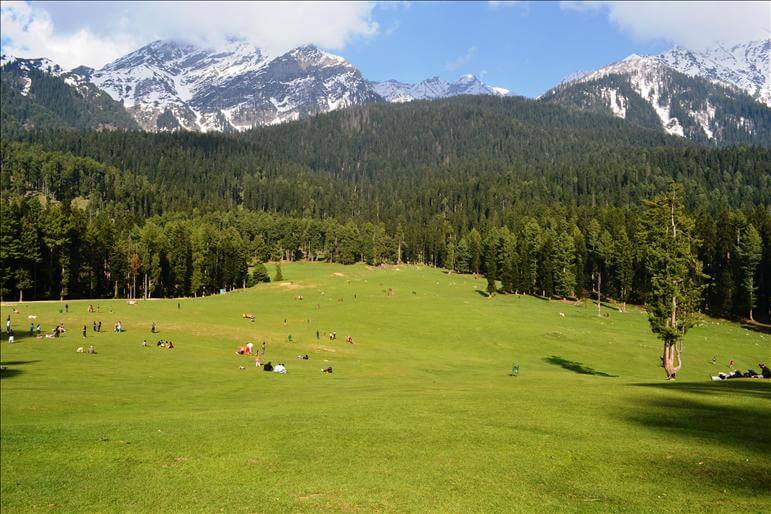 Pahalgam-A Paradise for Trekkers
Aru Valley
Aru Valley is a tourist spot in the Anantnag District of Jammu & Kashmir, India. It is popular for its Scenic beauty and peaceful environment. It is located Just 12 km away from Pahalgam. Aru Valley is a base camp for trekking to the Kolhoi Glacier and Tarsar Lake. During winters when Aru Valley receives heavy Snow Fall skiing and heli skiing are practiced. It is also known for a good spot for sightseeing.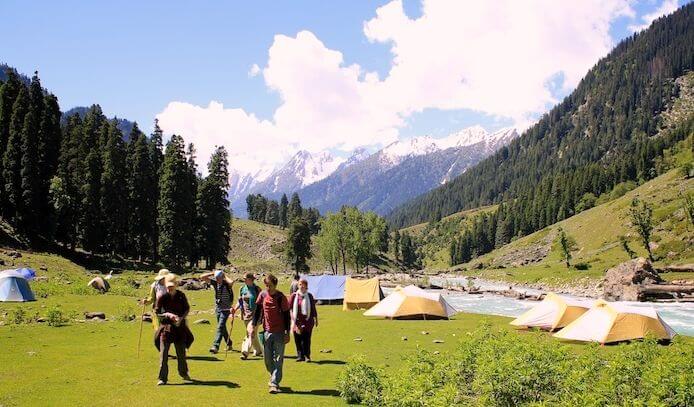 Aru Valley
The summer months in Pahalgam are cool but not chilly with warmth in the atmosphere. The hill resort is best for vacations in this period. It is good for all tourist activities, adventurous activities and pilgrimage related to Amarnath Yatra. Winters in Pahalgam offer snowfall with subzero climate.
Betab Valley
Betab Valley earlier known as Hagan Valley or Hagoon, Betaab Valley got its present name after the blockbuster Bollywood movie 'Betaab' A combination of picturesque surroundings, the valley falls on the way to Amaranth Temple Yatra and is one of the three angelic valleys of Pahalgam; the other two being Aru and Chandan wadi.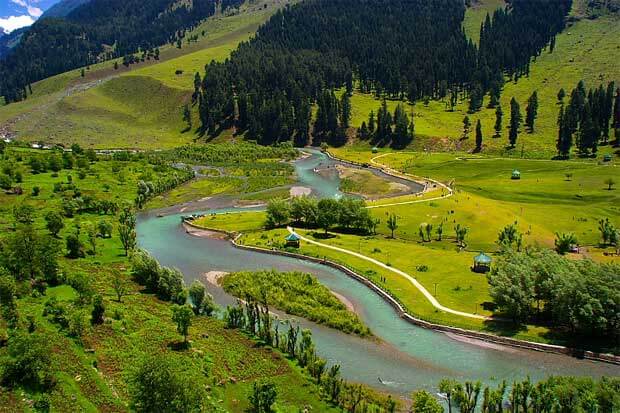 Betab Valley
Encircled by mountains featuring deodar and pine forests, Betaab Valley is a perfect gateway to enjoy the heavenly pleasure of Mother Nature. The sights of colouring beds of flowers amid the lush walnut and willow vistas make the entire panorama quite stunning casting a spell of magic on this land of eternal beauty. The experience is even more heightened by the musical whispers of several birds. Being a precious jewel of Jammu and Kashmir tourism, Betaab Valley is among a handful of Pahalgam tourist places to visit that should not be missed. Situated at a walking distance from the main center of Pahalgam, the valley is also an excellent camping site for trekkers and explorers.
Chandanwari
Situated at a distance of 16 km from Pahalgam, lies at an elevation of 2,923 m. Famous for its snow bridge, this location serves as the starting point of the Amarnath Yatra that takes place every year, from July to August. With a fairly flat terrain linking Chandanwari to Pahalgam, the location is easily accessible by car and the drive to Chandanwari is stunning as tourists can enjoy the streams and melting ice into the rivers.
Chandanwari
Transportation to these Spots
Tourists need to hire separate vehicle from phalgham to these valleys. To provide income to people living in this areas Government has banned Vehicles from Srinagar and other areas and if you are interested in visiting these places you will have to hire separate vehicles from Local Taxi union. Cost is approximately 1800/- INR for Tata sumo.
Best Season to Visit Kashmir
Spring Season starts in March and lasts up to May and the temperature ranges from 23 °C to 5 °C. Slow wind with few showers is expected in this Season.
Summer Season starts from May and lasts till August 1st Week. Summer is the best Season to Visit Kashmir. Weather will be cool and day temperate will be in the range of 20 °C to 32°C with pleasant weather creating a perfect season for tourists in Kashmir.
August is Amarnath Yathra Season.
Auntum Season starts in Sepetmeber and lasts till November 2nd week. Tempearture will be in the range of 23°C to 8°C.
Winter Season Starts from November last week and lasts till February last week. This season is known as the Honeymoon Season in Kashmir. The Temperature falls in the range of -3°C to 8°C in this season.
Check the climate conditions and weather forecast in Kashmir before your trip and pack your clothing accordingly.
Kashmir Travel Tips.
Only Post Paid SIM will work in Kashmir due to security reasons
Alcohol is not served in budget Hotels and Restaurants.
Alcohol is easily available in Srinagar city but not in other destinations.
Srinagar Airport has multiple security checks before entering the Main Departure Terminal. Keep your Tickets handy for verification. At the first Security point Passengers are required to take out all the baggage including the handbags for verification and screening. So reach the Airport at least 2.50 Hours before your flight departure.