BEST SEASON TO VISIT KULLU MANALI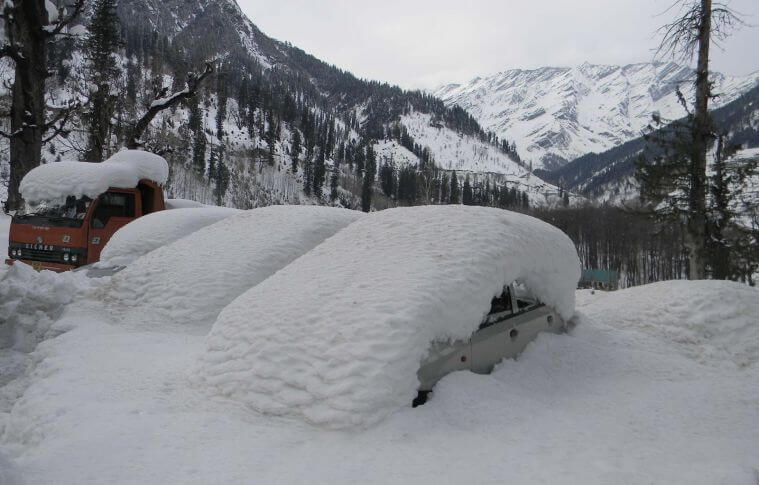 Snow Season in Kull Manali
Kullu Manali is popular as the best place for snow in India. This Hill station is famous for annual snowfalls and known for its chilly climate in all seasons. The best season to visit this tourist place really depends on what you are looking for on your trip, Summer Season is normally crowded with families and leisure travelers due to School and College vacations and winter season is preferred mostly by couples and honeymooners. August, September, October and November Months are the quietest months and easiest season to find accommodation at cheaper rates.
Summer Season
April to June end is the best season for outdoor activities. Weather will be soothing, sunny and pleasant and temperature normally varies between 4 °c to 25°c in Kullu Manali and -1°c -5°c in Rohtang Pass area. If you are looking for pleasant climate to enjoy your holidays then summer is the best season. This period is the most ideal season for families and elders visiting Rohtang Pass and other places in Kullu Manali.
Monsoon Season
July and August are characterized by cloudy weather and experiences heavy rainfall. Monsoon is the ideal season if you are looking for clean atmosphere and chilly winds in Manali. Beautiful fresh water streams are other interesting attractions of this season. Heavy rains and landslide are common in monsoon seasons Weather in Rohtang Pass is unpredictable during this period and Hotel prices tend to fall during this season. Average temperature is between 20 °c to 25°c in Manali and -2°c -15°c in Rohtang Pass area.
Winter Season
September to February is the winter season in Kullu Manali. This is best season to enjoy snowfall and stunning white views of the snow capped mountains. This period is ideal for skiing and snow activities. Temperature can fall below -5°c in Manali and drops to as low as -45°c in snow point (Normally closed during winter season) so ensure you carry enough woolens to keep yourself warm especially for the trip to Rohtang Pass. If you are interested in snow activates dress warmly with protective clothing like Thermal underwear, Thick warm socks, Hats, Gloves, Scarves, mittens and a water resistant sunscreen and lip balms.
Snow Fall Season in Kullu Manali & Rohtang Pass.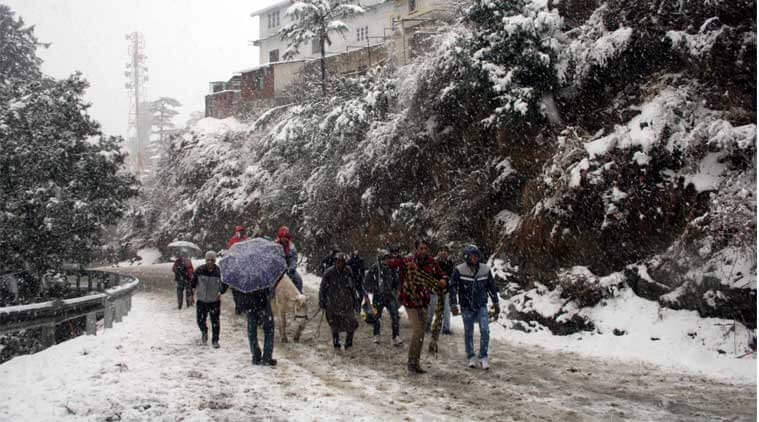 Snow fall season in Kullu Manali
Fresh Snow fall is expected in the months of December and January in the whole Kullu Manali area and October to January in the Rohtang Pass area.
Best Season for Kullu Manali Honeymoon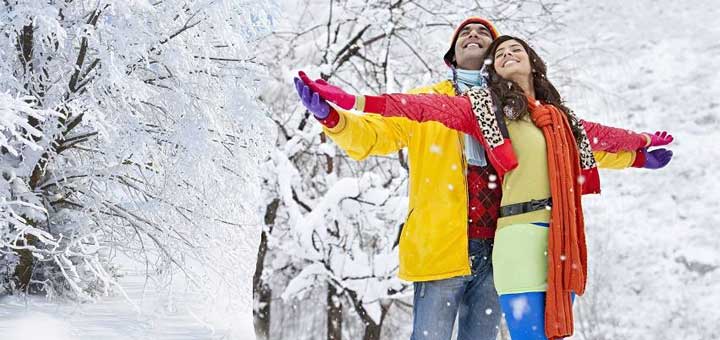 Honeymoon in Snow Seasons
Kullu Manali is the number one Honeymoon destination in India. The best seasons for honeymoon are the period from March to April in summer and December January months in winter season.
HOW TO REACH KULLU MANALI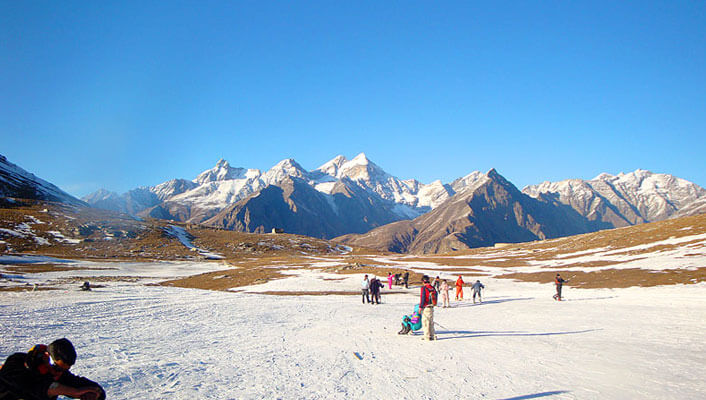 KULLU MANALI BY ROAD
Manali is connected to Delhi by National Highway 1 up to Chandigarh. From Chandigarh National Highway 21 connects to Manali. There is Volvo bus service from Delhi to Manali. Four pick up point are RK Ashram Marg near Connaught Place, Mandi House, and Majnu ka Tilla. Volvo Buses of Himachal Road Transport Corporation and Himachal Pradesh Tourism Development Corporation operate from Inter State Bus Terminal located at Kashmiri Gate.
KULLU MANALI BY AIR
Bhutnar Airport also known as Kullu Manali Airport is 50 km away from Manali. Only two Flights are operated from Bhutnar Airport. First one is Air Indian Flight from Delhi and second is Himalayan Bulls, a private Flight of 8 seats from Chandigarh to Kullu. The service of these flights depends upon the weather. Nearest operational Airports are Chandigarh & Delhi.
KULLU MANALI BY TRAIN
The nearest Railway station is Chandigarh which is 310 Km away from Manali. Manali is not very well connected by Rail Network. You can travel to Manali by road or take the private charted plane Himalayan Bulls from Chandigarh.
CUISINES OF MANALI
Most popular cuisine of Kullu Manali is Dham, often served as lunch and it includes rice, curd, curry along with many other side dishes, Red Rice which gives a nutty taste, traditional River Trout curry etc.
FAIRS AND FESTIVALS OF KULLU MANALI
Dussehra and Hadimba Devi festival are the two important festivals celebrated in Manali with great enthusiasm. The Hadimba Devi fair is organized every year in the month of May .Other fairs and festivals celebrated are winter carnival, Lohri, Doongri Forest festival etc.
SHOPPING IN KULLU MANALI
Manali is famous for beautiful woven shawls and handicrafts. Mall Road is the famous Market in Manali, other markets are Tibetan Market, Bhutitico, Old Manali Market.
KULLU MANALI WEATHER
Due to its proximity to Himalayan region Manali has cold climatic condition throughout the year. During the winter season from October to February the temperature is recorded below -25 °C. Rest of the time weather is calm, cool and pleasant the temperature during this period is recorded between 15 to 20 °C in Kullu Manali region and -5°c to in -45°c in Rohtang Pass area.