DELHI FAMOUS PLACES
Delhi, the capital of India played a vital role in the history of India. This ancient city was an imperial capital for the most part of a thousand years. Delhi is a metropolis of more than 17 million people which belong to different communities. Explore the famous places in Old and New Delhi, crowded and open, congested and beautiful, loved and derided. Capital, metropolis, urban sprawl, melting pot. Three world heritage sites are located in Delhi, Hunayum's Tomb, Qutub Minar and Red Fort. All the monuments and famous Architectural structures in Delhi reflect its colonial past. Another place which reveals the past is Museums. It would not be an exaggeration to say that a part of Delhi's souls lives in these Museums. Rail Museum and National Museum are the famous museums in Delhi. The Dazzling markets of Delhi offers everything that money can buy.
LIST OF FAMOUS PLACES IN DELHI
1.QUTUB MINAR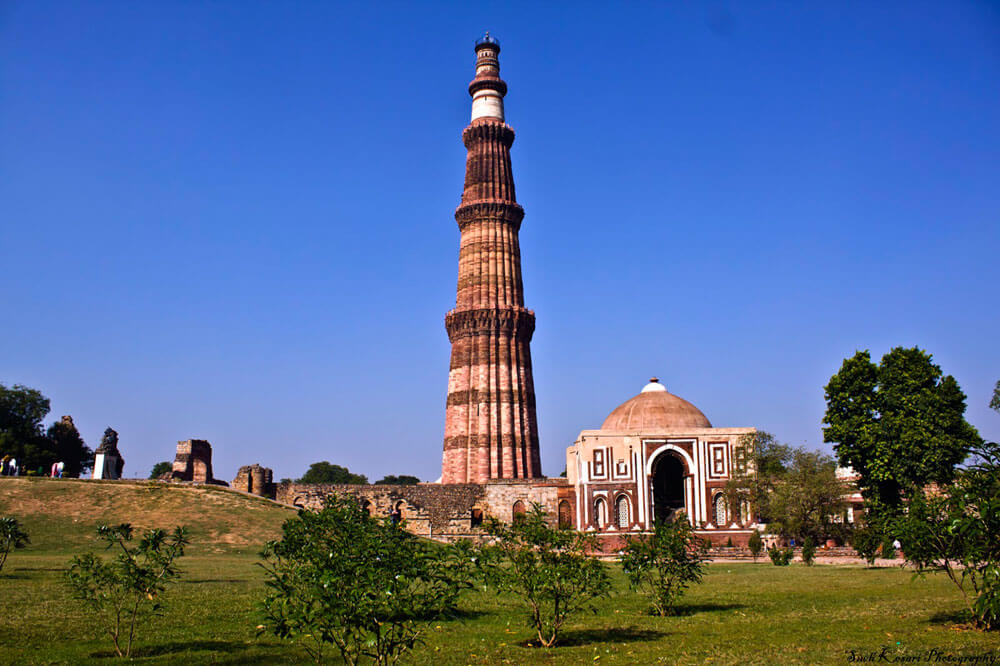 Qutub Minar is a UNESCO World heritage site and the tallest brick minaret in the World. This world famous minar was built by Qutab-ud-din Aibak in 1193 immediately after the defeat of Delhi's last Hindu kingdom. Qutub Minar is being made of red stone & marbles with 379 Steps and projecting balconies. The first Muslim ruler of Delhi Qutub-ud-din Aibak started the construction of the Qutub Minar in 1200 AD, But he could completed the basement only. His successor, Iltutmush added three more storeys and later in 1368, Firoz Shah Tughlak constructed the last two floors. This marvelous creation is located in South Delhi and considered as one of the popular tourist attractions in Delhi. Other important structures in the Qutub Minar complex are Quwwat-Ul-Islam Mosque,The Aai Gate, The Alai Minar, The Iron Pillar, devastated ancient Jain temples, and the tombs of lltutmish, Alauddin khilji and Imam Zamin.
Visiting Hours- 7Am to 5 Pm. Open- All Days
Entry Tickets: Indian and Visitors of SAARC Countries.
Adults- INR 30. Children up to 10 Years -INR15
Entry Tickets for Visitors from other countries. INR 500/Head
Address: Qutub Minar Monument Complex, Mehrauli, New Delhi, India.
Phone: +91 11 2464 7005
2. RED FORT (LAL QILA)

Red fort is the second world heritage site in Delhi, which is commonly known as Lal Qila. This Huge Fort was the residence of the Mughal Emperors for nearly 200 years until 1857. This high security fort was constructed by the fifth Mughal Emperor Shah Jahan in 1648 as a palace for his capital Shahjahanabad. The whole palace is enclosed with firm walls of Red sandstone so it was named as Red Fort. It took 9 years to complete the palace. It is best example of Mughal architecture which reflects the era of Shah Jahan. This fascinating piece of architecture lies on the bank of River Yamuna is famous around the world for its unique style of construction. Red Fort is a hugely popular tourist place in Delhi and it is the place from where the Prime Minister of India addresses the nation on Independence Day. A spectacular one hour light & sound show organized every evening at Red Fort complex and this show recreates the mughal history and events associated with the Red Fort.
Visiting Hours- 9.30Am to 4.30 Pm Daily (Except Monday)
Entry Tickets: Indian and Visitors of SAARC Countries.
Adults- INR 35. Children up to 10 Years -INR15
Entry Tickets for Visitors from other countries. INR 500/Head Closed on Monday.
Light & Sound Show Timings, Organized by India Tourism Development Corporation. Duration-1 Hour
September & October8:30 pm - 9:30 pm (English)7:00 pm - 8:00 pm (Hindi)
November to January:7:30 pm - 8:30 pm (English)6:00 pm - 7:00 pm (Hindi)
February to April :8:30 pm - 9:30 pm(English)7:00 pm - 8:00 pm(Hindi)
May to August :9:00 pm - 10:00 pm (English)7:30 pm - 8:30 pm (Hindi )
Light & Sound Show Entry Tickets
Weekdays: Adults: Rs.60 per Adult 3-12 yrs. old Child: Rs. 20
Weekends: Adults: Rs. 80 per adult 3-12 yrs. old Child: Rs. 30(03 to 12 Yrs)
Tickets rates are same for both Hindi and English. Light and Sound Show tickets can be purchased from the Red Fort venue and online at http://www.theashokgroup.com/
Telephone: +91 11 23281802, 23274580
Address: Red Fort, New Delhi, India- 110006. Note :Closed on Monday
3. INDIA GATE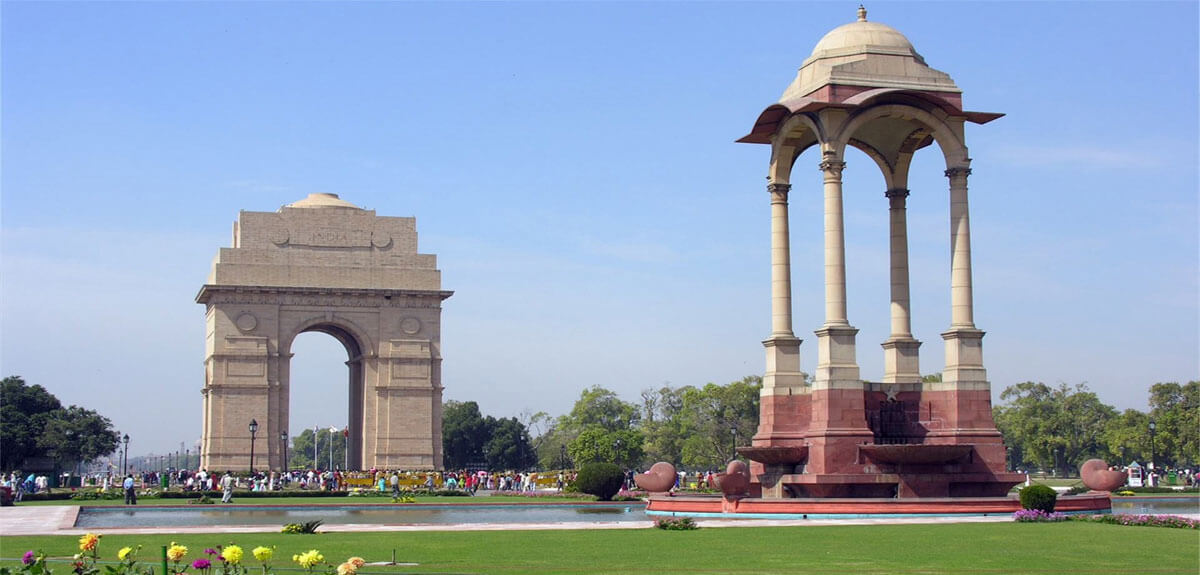 The India Gate is a war memorial located at Raj path in New Delhi. India Gate is a memorial to 80,000 soldiers of the Indian Army who died in First World War during the period 1914-21. It was designed by Sir Edwin Lutyens. Amar Jawan Jyothi is another Memorial Archway built in 1971 inside the India Gate. It was built in the memory of soldiers who sacrificed their lives during the Bangladesh Liberation War. As a tribute names of soldiers who died in several wars are inscribed on the walls of India Gate. This Simple structure is made of black marble platform with reserved rifle, capped by war helmet and bounded by four eternal flames. India Gate is a part of Rajpath area where Republic day parade is held. Other important buildings situated in Rajpath are Rashtrapathi Bhavan and Parliament House. All three important places are a must visit place during your Delhi tour and situated in a radius of 1 kilometer. Today, the vast green lawns and well maintained parks surrounding the arch are also included in the India Gate area. It is a popular public space where all Delhi peoples spend their evening with the families and friends.
Entry is free and open all days except during Republic day celebrations.
4. HUMAYUN'S TOMB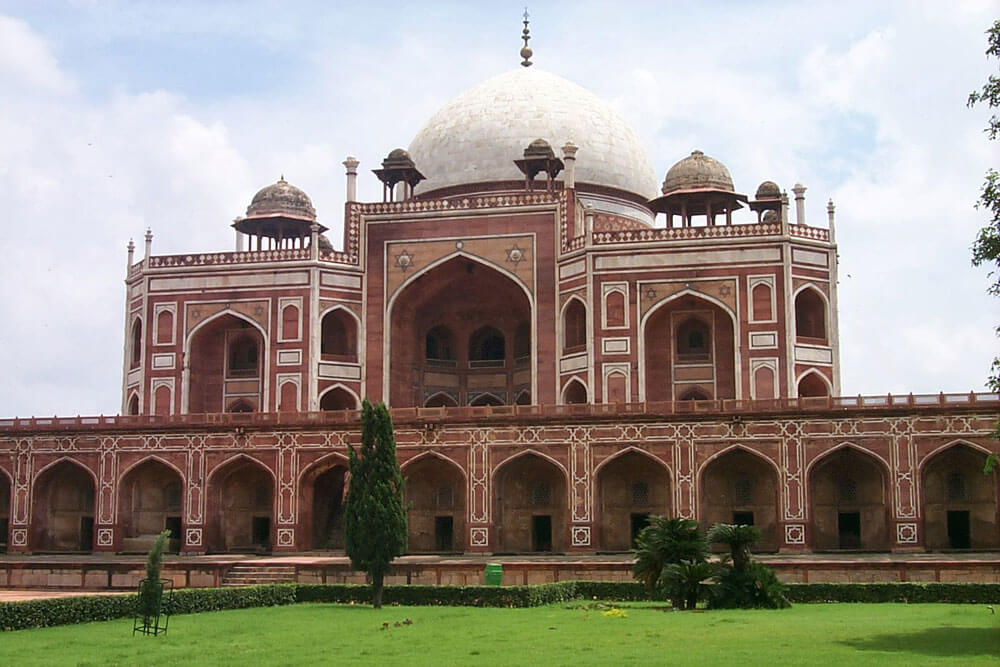 Humayun's Tomb is a tomb of Mughal Emperor Humayun in Delhi. The tomb was constructed by Humayun's son Akbar IN 1569-70 & designed by Mirak Mirza Ghiya, a Persian architect chosen by Bega Begum. Tomb is located in Nizzamudin in South Delhi and made of red sandstone. In 1993 the tomb was declared as World Heritage Site by UNESCO and this place is one of the famous tourist spots in Delhi. Humayun's Tomb is the first famous garden tombs of the Mughals and First Tomb in Delhi to be placed on a high platform with a classic onion shaped dome. Apart of this beautiful piece of architecture, some other monuments are also spotted here such as Arab Ki sarai, The Tomb of Isa Khan, etc.
Entry Tickets: Indians INR 30. Foreigners: INR 500.Video Charges-INR 30
Visiting Hours- Sunrise to Sunset Daily
Address: Mathura Road, Opposite Dargah, Nizamuddin, Delhi 110013, India. Phone- +91 11 24355275
5.AKSHARDHAM TEMPLE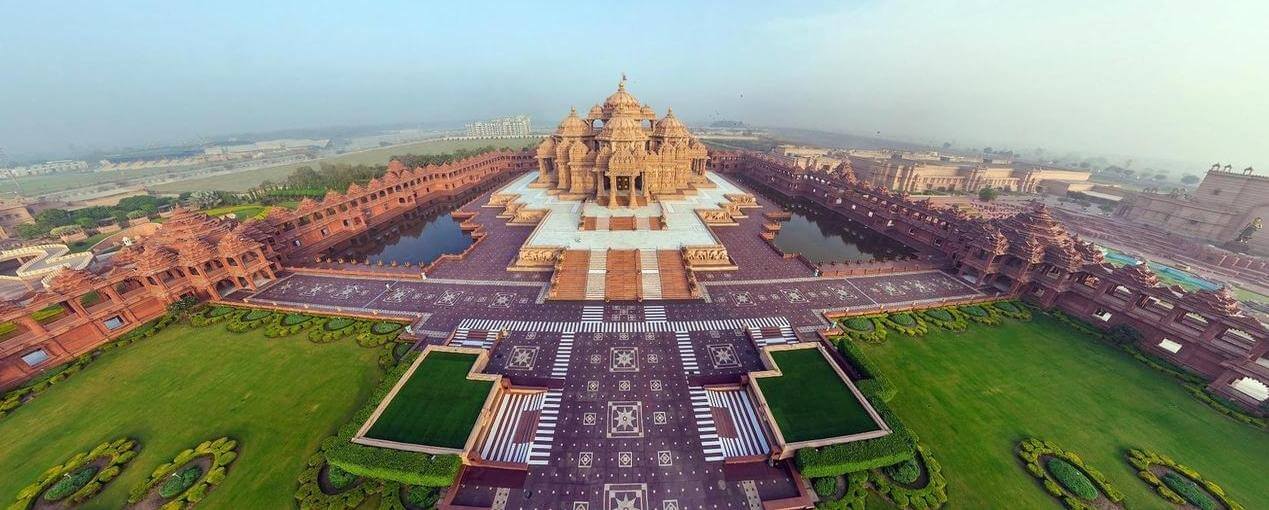 Akshardham Temple is another excellent piece of architecture which tells about the Indian culture and spirituality. Akshardham means the"divine abode of God" Akshardham is a traditional Hindu Temple built by Constructed by Bochasanwasi Shri Akshar Purushottam Swaminarayan Sanstha (BAPS) and was officially opened on 6 November 2006.The temple with more than 20,000 Murthi(idols) is main attraction of the complex. Other popular attractions are musical fountains with stunning sound and lights, exhibitions, light and sound show, theater play and cultural boat ride that provides an exciting journey through the cultural heritage of India. The tremendous architecture and spiritual presentation of this huge place is famous throughout the country and it is regarded as one of the popular tourist places in Delhi.
Entry Timings-9.30 Am to 6.30 Pm
Entry- Free
Light & Sound Show-After Sun Set
Show Charges-Adults- INR 80
Children (4 to 11 Years) - INR 50
Children (Below 4 Years) – Free
6. LOTUS TEMPLE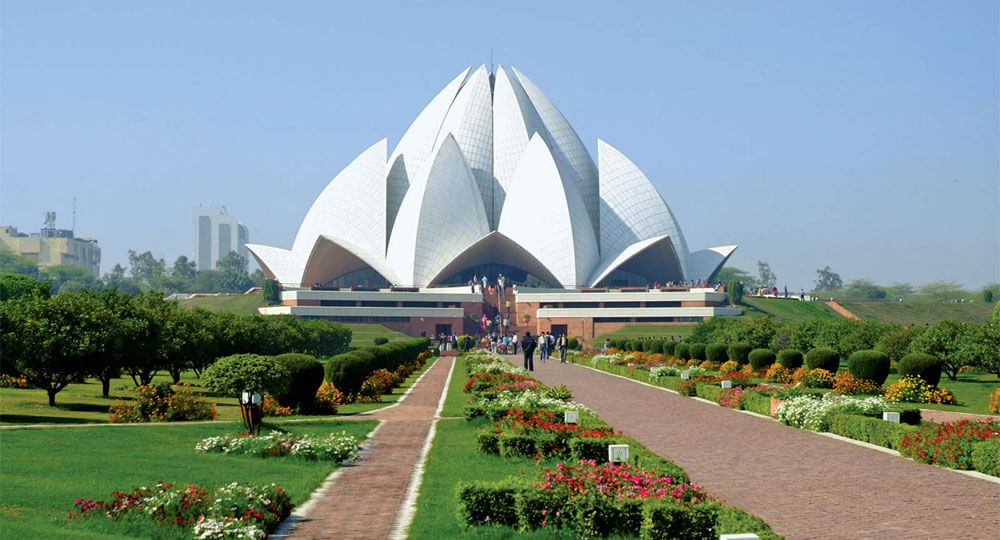 The Lotus Temple is one of most visited tourist places in Delhi. This temple is a part of Bahai's house of worship. Lotus temple is the seventh Bahai house in the world and the only in Asia which is commonly known as Lotus Temple. The interesting feature of Lotus temple is its shape and structure composed of 27-free standing lotus petals. Made of white marble its shape is just like a lotus flower which is ready to bloom. Like other Bahai houses, lotus temple is also opened for all the religions. This is the only temple where no sermons are delivered and no spiritual ceremonies are practiced. Lotus temple is a popular tourist attraction in Delhi and has attracted more than 80 million visitors till now after it was opened in 1986.
Visiting Hours
9:00 AM - 7:00 PM (Summer)
9:00 AM - 5:30 PM (Winter)
Entry Fee- No Entry Fee
ADDRESS: Lotus Temple Road, Shambhu Dayal Bagh, Bahapur, Near Kalkaji Temple, New Delhi, Delhi 110019, India. Closed on Monday
7. RASHTRAPATHI BHAVAN

Rashtrapthi Bhavan is the official house of the President of India which is located at western end of Rajpath in New Delhi. Designed by British architecture Sir Edwin Lutyens in an area of 5 acres this huge mansion has 340 rooms including 190 acres of garden area. The Mughal Garden is open for the public in the months of February –March every year during spring seasons.
8. PARLIAMENT HOUSE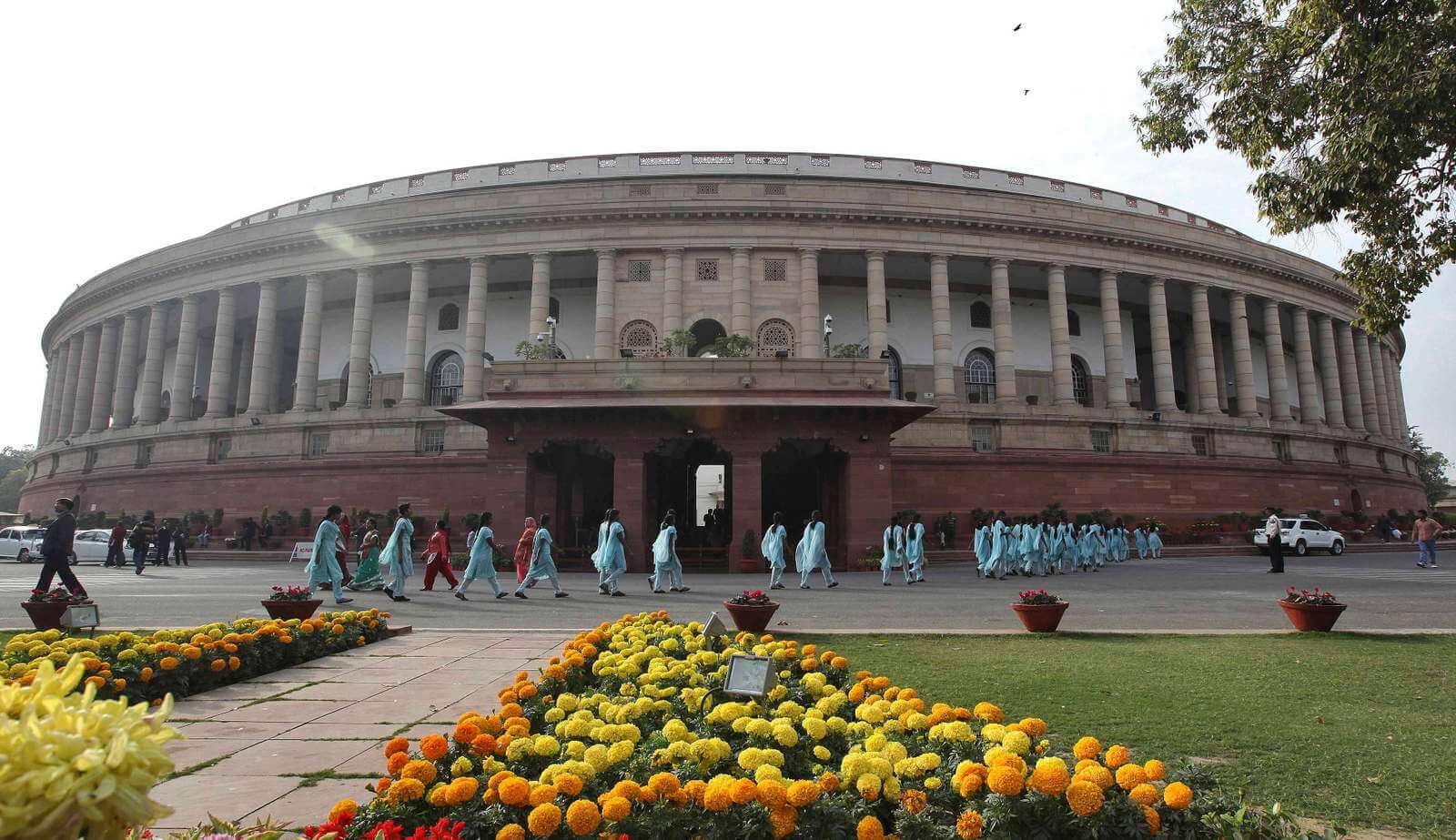 Parliament House is one of the magnificent buildings designed by Edwin Lutyens and Herbert Baker in 1912-1913. The circular shaped building consists of an open verandah with 144 columns and surrounded by vast gardens and large walls. The House is not open for tourists and can be seen from outside.