Must Visit Tourist Spots in Agra
Agra is a city in the state of Uttar Pradesh in India which situates in the banks of River Yamuna. It was the capital city during the Mughal period. The most important tourist attraction in Agra is the world famous Taj Mahal, one of the seven wonders in world. It also houses some of the UNESCO World heritage sites and historical monuments.
The Taj Mahal

The TajMahal acknowledged as the Jewel of India is the most beautiful monument of the world. It is one of the seven wonders in world and acknowledged as the most photographed monument in the world. TajMahal attracts record 4-5 million tourists every year including international travelers. Emperor Shah Jahan built this architectural beauty in the memory of Mamtaz Mahal, his 4th wife. This white marble mausoleum was built between 1631 and 1648 employing around 20000 workers from India, Persia and European countries. This perfect planned stunning architectural marvel was designed by three artists and built in a huge area covering 42 Acres.
Travel Tips for Tourists visiting the Taj Mahal.
Taj Mahal Entry tickets is available at 4 Places.
Taj Mahal Western Gate: Timings: From Sunrise to Sunset (06.00 Am to 06.30 Pm)
Taj Mahal Eastern Gate: Timings: From Sunrise to Sunset (06.00 Am to 06.30 Pm)
Taj Mahal Eastern Gate: Timings: From Sunrise to Sunset (06.00 Am to 06.30 Pm)
Taj Mahal Southern Gate: Timing - 8:00 A.M. To 5:00 P.M.
The Taj Mahal is opened all days of the week except for Fridays. Only Muslims are allowed on Fridays to attend prayers.
The Taj Mahal is opened at night from 8.30 Pm to 12.30 Am on the full moon night and 2 days before and after full moon night day except on Friday and during the month of Ramadan.
Ticket Counter at Southern Gate is less crowded compared to other ticket counters. Free bag lockers are also available at this Gate. Petrol & Diesel Vehicles are allowed only up to the parking area. Battery operated vehicles and golf carts are available from the parking area to the Taj Mahal Gate.
Shoe covers are available at ticket counter for Rs-20 -30 per pair. Shoe covers, 1 Water bottle and a tourist map are provided free of cost to foreigners with their ticket. Eating and smoking is strictly prohibited inside the monument. Water bottles and mobile phones are allowed. You need to take off your shoes or wear shoe covers while visiting the main tomb area. Entry to the Taj Mahal Museum inside the TajMahal complex is free and opens from 10.00 AM to 5.00 PM.
Wheel Chair for differently abled people is available at Archeological Survey of India office at Taj Mahal. Contact on +91 562 2330498. For more details visit the official website http://tajmahal.gov.in
Best Time of the Day to visit the Taj Mahal
Sunrise and Sunset are the most appropriate time to visit the Taj Mahal. Early morning is the ideal time to take the perfect snaps and enjoy the beauty of the monument in the cool atmosphere without any disturbance from the crowds. (Due to fog and mist Visibility may not be good in the early mornings in December and January) Evening is also better as the temperature becomes cool and area less crowded.
Entrance Fee for Taj Mahal
Foreigners: Rs 750 /-
Indians: Rs 40/-
Free entry for Kids below 15 Years
Timings for Taj Mahal
6:00 AM to 7:00 PM
SIKANDRA FORT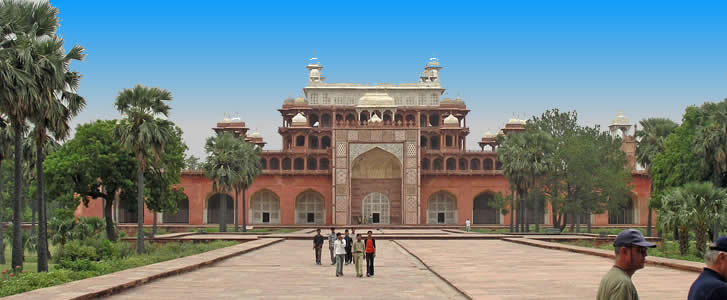 Sikandra Fort located 13 km away from Agra Fort, is the resting place of Mughal emperor Akbar, the greatest of the Mughal emperors and one of the most secular minded Kings of Mughal Dynasty. He was the heir to a long serving dynasty and great admirer of art and literature. He had a deep interest in philosophy and science and always promoted the modern science. Akbar followed the Mughal Tartary custom and planned his own tomb and even selected an ideal site for his cremation. Later Akbar's son Jahangir completed the construction of this tomb in 1613.
AGRA FORT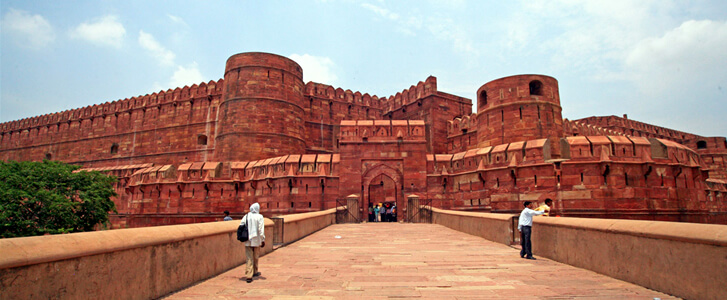 The Agra fort which is also known as the Lal Quila is one the famous tourists spots in Agra. The Fort was built during 1565 and 1573 as the imperial residence of Mughal rulers. Originally the construction was begun by the Mughal King Lodi later the great ruler Akbar rebuilt the present structure with red sandstone from Rajasthan. Shah Jahan was held as a prisoner for 8 years in this fort by his son Aurangzeb and not allowed to meet any one without permission. This magnificent red colored fort is a UNESCO listed world heritage site and one of the must visit tourist places in Agra. This huge magnificent fort made out of red sandstone covers an area of 94 Acres with four gates for entrance. "Diwan –i–Am located inside the Agra Fort is the most important spot where the Mughal King used to hear the problems faced by common people.
Entrance Fee for Agra Fort:
Foreigners: Rs 300 /-
Indians: Rs 40/-
Free entry for Kids below 15 Years
Timings for Agra Fort
6:00 AM to 6:00 PM
Light and sound show in Agra Fort
Tourism department has started a light and sound show which provides an insight into the history of Agra Fort. Both English and Hindi Shows are of 30 Minutes duration. First show starts at 18.45 Hours and ticket price is 50 INR/ Person for Indians and Rs 150 for international tourists. Do not miss the show if you are staying overnight in Agra.
FATHEPUR SIKIRI

Fathepur Sikiri is a small city situated on the bank of Yamuna river around 40 Km from Agra.Built in 1585 during the Mughal period by the emperor Akbar as an extension of the upper Vindhyan ranges. The city was the first planned city built by the Mughals with efficient water supply and drainage. It took around 16 years to build this city and stands as one of the finest examples of Hindu Muslim Architectural splendor at its height. This city was abandoned soon after its completion because of the scarcity of water and a remainder of the extravagance of the Mughal emperors. Buland Darwaza, Tomb of Sheikh Salim Chishti , Panch Mahal and Diwan-i-Khas are the important buildings in this city. There is archeological museum near Diwan-i-Khas which is closed on Friday.
Fathepur Sikri Entrance Fee:
Foreigners: Rs 260 /
Indians: Rs 40/-
Free entry for Kids below 15 Year
Timings for Fathepur Sikri
Sunrise to Sunset
HOW TO REACH TAJ MAJHAL -AGRA
Agra is around 210 Km away from Delhi and well connected by Road and Rail network with all tourist places and nearby cities.
BY AIR
Kheria Airport is the only one Airport in Agra. The Airport is operational but there are no scheduled flights to Agra. New Delhi is the nearest Airport which is around 218 Km away from Agra.
BY TRAIN
Agra is well connected to the most of the cities in India as it is situated on the centre of important railway networks. Agra Cantt is the main railway station in Agra and other stations are Agra Fort station, Raja Ki Mandi and Idgah Railway Station. There are more than 20 trains daily connecting Delhi-Agra and 4 or 5 trains from Mumbai and Chennai. All Super fast trains like Rajdhani Express, Shadabdhi Express and Gatiman Express stop at Agra Station.
BY ROAD
The National Highway 2 connects Delhi Agra within 4 to 5 Hours. The latest addition to this is Yamuna Express highway from Noida to Agra which is also known as Taj Express Highway. It is a modern 6 line Highway and takes only 3 to 3.30 Hours to connect Delhi Agra. There other Highways connecting Agra are NH11 from Jaipur- Agra and the newly opened Agra Lucknow expressway. If you are travelling through Yamuna express highway there are certain toll charges.
| | | |
| --- | --- | --- |
| Vehicle Type | One Way in Rs | Round Trip in Rs |
| Car, Van, Jeep & other light Motor | 350/- | 510/- |
| Two, Three wheeler | 150/- | 240/- |
| Bus or Truck | 1050/- | 1680/- |
CUISINES OF AGRA
The city of Agra is not only famous for the Taj Mahal but the ancient Mughal capital still serves the best Mughalai food. Not only has the Mughali food the city served some other special variety of Cuisines like Dal Moth, Agra Petha and Chaats.
SHOPPING IN AGRA
There are number of places in Agra for shopping. In Agra you can purchase lot of unique and beautiful items from local shops like statues resembling the world famous Taj Mahal, handmade jewellery and jewellery boxes, Marble Carvings, Stone products and the famous Agra sweet petha etc. Agra is a famous place for leather items .Sadar Bazar, Raja ki Mandi are the famous shopping markets in Agra.
BEST SEASON TO VISIT TAJ MAHAL -AGRA
Agra has an Extreme and tropical climate like other part of North India. Agra has 4 seasons like other regions of North India. December to February is the Winter Season. March and April –the spring season also one of the ideal seasons for sightseeing tour. May to September is the summer season and the temperatures ranges between 24 °C to 45°C. October November months represent the autumn season. The best season to visit Agra is the period from November to March. The weather during the season will be pleasant and perfect for outing except for few days in January. The normal average temperature in winter ranges from 20 °C to 2°C.